Hey there FIT-Fam!
Check out our updated info!!!
FIT360DC makes sure we stay up-to-date on both CDC and local government standards related to public health concerns. In keeping our compliance, FIT360DC has been working hard to develop the best systems and practices to ensure the health and safety of both our members and staff. Here's some of the things to keep in mind as we make our way back.
Self Check-In.
All members will need to check themselves in via our downloadable FIT360DC app. Once you've created your profile, you can either sign yourself in for classes or regular gym access. By doing so, you are consenting that you are not sick, have not been exposed to COVID-19 to your knowledge, and that you are experiencing no other signs of being sick.
Both class and gym access will, for the time being, be limited to no more than 10 people at a time within an hour, so in order to best monitor the flow of traffic within the gym, we need everyone to check in, either with our app or our front desk kiosk. Also, there may be times where scheduled classes and gym access members will not share the same space and time, with gym access hours temporarily restricted from 6pm-7pm Monday through Thursday, and from 12pm-1pm Saturday. Please note that restricted gym access times may be added or adjusted in the near future.
Most of you who have taken classes with us may already be familiar with our app, but for those gym access members who may not be familiar, click on our video to see what your self check-in will look like.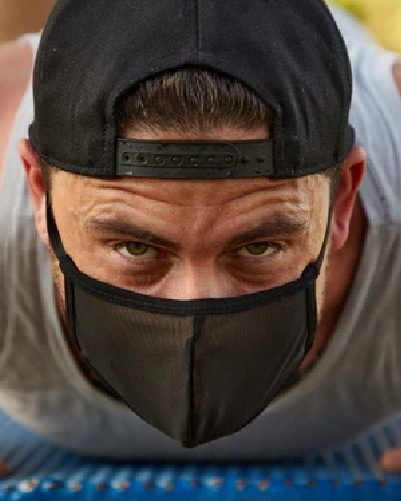 Masks Encouraged but Optional and Proof of Vaccination Required
Masks are highly encouraged but optional. Also for the time being, we are still requiring proof of your updated vaccination status for anyone working out in our facility, either by showing us in person or via email.
---
Towels and Mats
You are encouraged to bring your own towel and/or mat. Both towels and mats will be on hand if needed.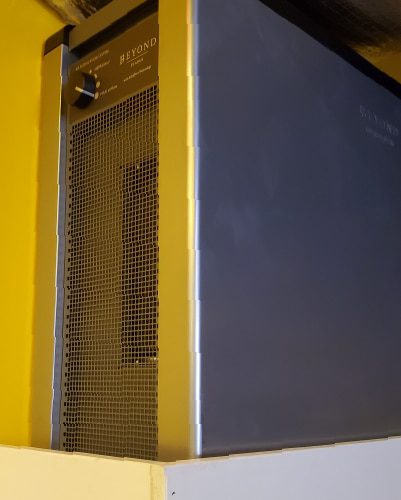 Beyond Guardian Air Purification Systems by Aerus/ActivePure.
The technology within these systems is a proprietary, certified Space technology that uses oxygen and humidity from the air, converts it into powerful oxidizers, and surrounds exposed surfaces to capture 99.97% of particles as small as 0.1 micron, performing at levels better than HEPA. A single unit is meant to cover up to 2,000 sq. ft. (we have 2 units for our 2,500 sq. ft. facility).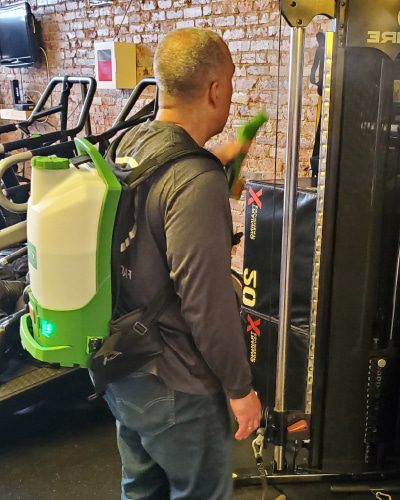 Electrostatic Surface Treatment/Deep Cleaning by GI Facility Services.
In addition to our regular daily cleaning, we've had a deep cleaning with every surface. We've also used an EPA approved Electrostatic mist treatment designed to provide complete surface coverage protection from top to bottom.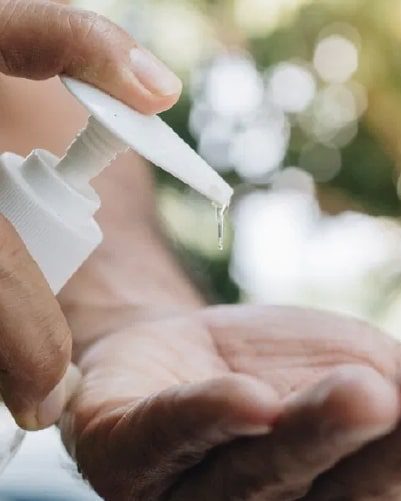 Hand Sanitizer/Disinfectant Spray/Hand Wipes/Soap.
We would require everyone entering the gym to use the hand sanitizer at the front desk. Once inside, in addition to staff cleaning, we will require members to use the disinfectant spray made available at the newly placed hand towel dispensers within the gym in order to wipe down your equipment or surrounding area. Additional hand sanitizer and wipes are also in the back to use. Finally, we encourage members to wash their hands before they leave.
---
Gloves are optional.
The most recently upgraded measures to keep surfaces clean, including our Beyond Guardian Air Purifiers and electrostatic mist treatment, as well as available hand sanitizer, will allow for safe surface contact. Still, gloves are on hand if you would like them.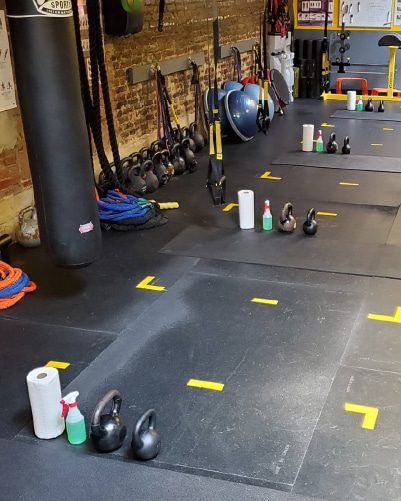 Please practice physical distancing (6′ apart minimum).
For some of us, we'll be excited to see familiar faces (or eyes), and others are usually fine keeping to themselves. Either way, make sure you're not crowding space up front or by the cubbies, maintaining your distance to talk, allow one person to use machines or benches at a time, and give space for folks to walk by, through or around.
---
Please keep the belongings you bring to a minimum.
Try to keep your most necessary items with you (Suggestion: Ziplock bag), and don't forget them once you leave. Water bottles, socks or other extraneous items left behind will not linger for very long like before.
Thank you for working with us as we get through this.
Our primary concern is the health and safety of everyone who enters our building, including both our members and staff. With this in mind, we are doing everything possible to ensure your health, everyone's health around you, and to still maximize your workout experience.
Remember, your behavior and habits outside affect our business and your experience inside, so please continue to follow CDC guidelines in staying safe.
We will continue to provide additional information as we move along towards reopening. We sincerely thank all of our members and extended FIT-Fam for your support, and we look forward to seeing you all soon!
Brian McGee
 Owner/Head Training Coach